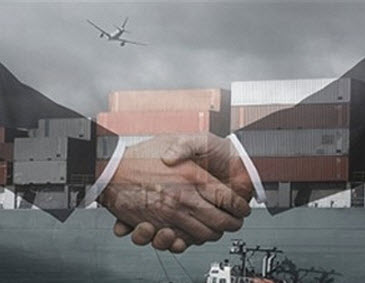 U.S., India Trade Relations: Opportunity for Improvement
Over the years, U.S. government officials have continued to look for avenues to strengthen the U.S.-India bilateral trade relationship and there is increasing optimism that the new Indian Administration—specifically under the leadership of the new Prime Minister Narendra Modi—will be willing to work cooperatively with the U.S. government and industry to alleviate restrictive regulation and trade barriers.
Upon recent return from India, two lawmakers are more hopeful about the potential for enhanced security cooperation and bilateral trade and investment between the two governments. U.S. Senators Tim Kaine (D- Va.), Chairman of the Senate Foreign Relations Subcommittee on Near Eastern and South and Central Asian Affairs and Angus King (I- Maine), a member of the Senate Armed Services and Intelligence Committees, recently concluded a visit to India – including stops to New Delhi and Mumbai. Five-months since Narendra Modi's election win, the senators met with embassy officials, think-tank experts, Indian parliamentarians and other officials to discuss the success of Prime Minister Modi's recent visit to the U.S. and ways to continue to advance the U.S.-India relationship, including increased economic cooperation and closer defense ties.
With the number of U.S.-led military exercises that India participates in dramatically increasing, Sen. Kaine observed three areas where he believes the U.S. can expand its defense cooperation with India: military exercise, weapons platform development and intelligence exchanges.
Additionally, New Delhi recently opened its military procurement processes allowing for more participation by privately held companies. For U.S. defense companies this could be an opportunity for some joint ventures and new partnerships.
Another opportunity for continued cooperation between the countries comes as a result of a recent ruling by the World Trade Organization (WTO). For more than seven years, India had restricted various U.S. agricultural products, including poultry meat, eggs, and live pigs, supposedly to prevent entry of avian influenza into India. The U.S. consistently explained to India that, as reflected in relevant international standards, there was no scientific basis to ban imports of U.S. agricultural products and finally in 2012, brought the dispute to the WTO for a ruling.
Recently, the panel ruled in favor of the U.S., indicating that India's ban breached a number of international trade rules, including that it was enforced with no scientific basis to ban imports of U.S. agricultural products. At the announcement, United States Trade Representative Michael Froman, stated that the victory affirms the Administration's commitment to ensuring WTO Members play by the rules, and that America's farmers, workers and businesses get the fair shot they deserve to sell Made-in-America goods under WTO rules. Now India will be open to U.S. poultry and livestock products further unlocking economic opportunity for American workers, farmers, and businesses.
A copy of the Panel's report may be found here.
Representing an important market for the U.S. economy, India has one of the largest economies in the world. According to the USTR, India is currently the 11th largest goods trading partner. In 2013 the U.S.-India goods trade totaled $63.7, with U.S. goods exports to India totaling $21.8 billion.