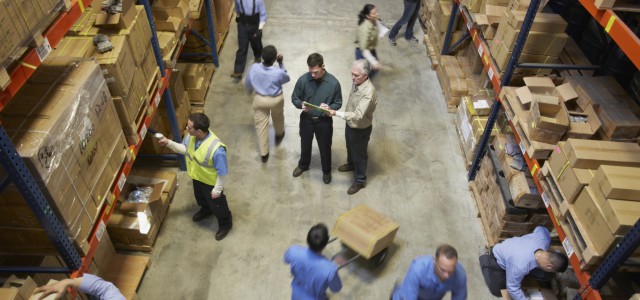 U.S. Exports Sets Record for Fifth Consecutive Year
On Feb. 5, The U.S. Census Bureau and the U.S. Bureau of Economic Analysis, through the Department of Commerce, released their fiscal year (FY) 2014 export data. For FY 2014, the BEA reports that U.S. exports of goods and services reached a record of $2.345 trillion, which represents a 2.9 percent increase and set a record for the fifth year in a row. Last December, the U.S. exported $194.9 billion of goods and services, down $1.5 billion from November's $196.4 billion exports total.  December imports were $241.4 billion, up $5.3 billion from November.
The December increase in the goods and services deficit reflected an increase in the goods deficit of $6.9 billion to $66.0 billion and an increase in the services surplus of $0.1 billion to $19.5 billion.
For 2014, the goods and services deficit was $505.0 billion, up $28.7 billion or 6.0 percent from 2013. Exports were $2,345.4 billion in 2014, up $65.2 billion or 2.9 percent from 2013. Imports were $2,850.5 billion in 2014, up $93.9 billion or 3.4 percent from 2013.
The 2014 increase in the goods and services deficit reflected an increase in the goods deficit of $35.2 billion or 5.0 percent to $736.8 billion and an increase in the services surplus of $6.5 billion or 2.9 percent to $231.8 billion.
As a percentage of U.S. gross domestic product, the goods and services deficit was 2.9 percent in 2014, up from 2.8 percent in 2013.
Upon release of the new export figures, Export Import Bank of the U.S. (Ex-Im) Chairman and President Fred Hochberg said, "These export numbers are a testament to the quality and innovation of American goods and services, but they don't mean we can rest on our laurels."  He went on to say, "the thousands of U.S. businesses, small and large, that count on Ex-Im Bank being there to support them to win export sales and add good-paying jobs here in America can't afford an unforced error that would threaten the positive momentum demonstrated by today's news."
Ex-Im Bank is an independent federal agency that helps create and maintain U.S. jobs by filling gaps in private export financing at no cost to American taxpayers. Ex-Im provides a variety of financing mechanisms, including working capital financing, export-credit insurance and financial guarantees to help foreign buyers purchase U.S. goods and services. In FY 2014, Ex-Im approved $20.5 billion in total authorizations, supporting an estimated $27.5 billion in export sales and approximately 164,000 American jobs. Of the 3,746 transactions Ex-Im Bank approved in FY 2014, nearly 90 percent supported American small businesses.
The National Small Business Association (NSBA) and, its international trade arm, the Small Business Exporters Association (SBEA) have been outspoken proponents of reauthorizing the Bank, as it is often the only financing resource available to many small exporting firms. The Bank's charter was in severe jeopardy last September, however, Congress granted a temporary reauthorization through June 2015. On Jan. 28, Rep. Stephen Fincher (R-Tenn.) introduced the NSBA and SBEA supported bill, Reform Exports and Expand the American Economy Act (H.R. 597), which would provide a long-term renewal of Ex-Im's charter for five years along with a number of reforms to strengthen the Bank's transparency and accountability while fostering job-growth. Although, this bill has the support of 57 cosponsors, lawmakers continue to be divided with deciding the Bank's fate.
NSBA and SBEA encourage small-business owners to voice their support for the long-term reauthorization of Ex-Im Bank to their members of Congress through letters and share their Ex-Im success story with us, at https://www.sbea.org/?page_id=553.
For more information about how Ex-Im Bank products can empower small-business exporters to increase foreign sales click here. To learn more about Ex-Im, visit www.exim.gov.