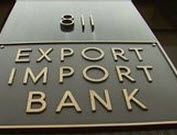 Senate Shows Support for Ex-Im Bank; Offers Bills
With less than 100 days remaining until the Export-Import Bank of the U.S. (Ex-Im) current charter expires, many in Congress are increasing efforts to ensure the export credit agency (ECA) is able to continue to provide competitive export financing options for customers overseas who are interested in buying U.S. goods and services. As its expiration is fast approaching—June 30—reauthorization remains critical.
Ex-Im Bank is an independent federal agency that helps create and maintain U.S. jobs by filling gaps in private export financing at no cost to American taxpayers. The Bank provides a variety of financing mechanisms, including working capital financing, export-credit insurance and financial guarantees to help foreign buyers purchase U.S. goods and services. Ex-Im is especially crucial to small and medium-size businesses, which account for nearly 90 percent of the Bank's annual transactions, and nationwide, the Bank supports more than 205,000 American jobs.
A majority of House members have already expressed interest in acting on a long-term reauthorization of Ex-Im Bank, cosponsoring the Reform Exports and Expand the American Economy Act (H.R.597) introduced in January by Rep. Stephen Fincher (R-Tenn.) or the Promoting U.S. Jobs through Exports Act (H.R. 1031) introduced in February by House Financial Services Ranking Member Maxine Waters (D-Calif.).
Now, some Senators are beginning to weigh-in. Recently, Sens. Joe Manchin (D-W.Va.) and Mark Kirk (R-Ill.) introduced the Export-Import Bank Reform and Reauthorization Act of 2015 (S. 819) which would reauthorize the Bank's charter until Sept. 30, 2019 and would minimize risk to taxpayers by requiring a regular audit of the Bank's risk management practices and procedures. Joining Manchin-Kirk in their long-term support for the Bank are original cosponsors: Sens. Heidi Heitkamp (D-N.D.), Lindsey Graham (R-S.C.), Roy Blunt (R-Mo.), Joe Donnelly (D-Ind.), Kelly Ayotte (R-N.H.) and Mark Warner (D-Va.).
Key provisions included in S. 819 are:
Lowers the Banks lending cap from $140 billion to $135 billion.
Reduces risk to taxpayers by requiring higher loan loss reserves.
Puts greater focus on small businesses by increasing the required lending to small businesses from 20 percent to 25 percent.
Lifts restrictions on energy projects around the world by prohibiting policies that would prevent the Bank from financing coal-fired or other power-generation projects that would increase U.S. exports and support U.S. jobs.
Increases oversight of bank practices. It creates a Chief Risk Officer and a Risk Management Committee to oversee the Bank's operations, requires the Inspector General to audit the Bank's risk management procedures regularly, and creates a non-political Chief Ethics Officer to oversee ethics practices of Bank employees.
To read the full text of the Machin-Kirk bill, please click here.
Another Senate bill, the Promoting U.S. Jobs through Exports Act of 2015 (S.824), was also introduced by Senator Jeanne Shaheen (D-N.H.), and her fellow Democrats Richard Blumenthal (D-Conn.), Al Franken (D-Minn.) and Dianne Feinstein (D-Calif.). This measure would provide long term certainty for small businesses by extending the Ex-Im Bank through 2022. In addition to extending the Bank's charter for seven years, S. 824 would increase the Bank's lending cap by $20 billion over that period, contingent on the Bank's default rate remaining below two percent. It would also increase the Bank's loans to small businesses by five percent.
NSBA and SBEA have been outspoken proponents of a long-term reauthorization of Ex-Im Bank, and it was recently named one of our top ten priorities for the 114th Congress, as it is a critical resource for small-business exporters. As the debates heats-up, NSBA and SBEA encourage small-business owners to voice their support for Ex-Im to their members of Congress through letters of support.