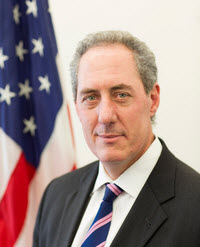 NSBA Hosts USTR Froman for Member Teleconference
On May 13, NSBA and its international trade arm, the Small Business Exporters Association (SBEA) held a teleconference featuring U.S. Trade Representative Michael Froman. During his remarks, Ambassador Froman provided an overview of the President's trade agenda and discussed the important benefits that small and medium sized businesses stand to gain from the trade agreements currently being negotiated.
The Ambassador, who serves as President Barack Obama's principal advisor, negotiator and spokesperson on international trade and investment issues, has been spearheading negotiations on the Trans-Pacific Partnership (TPP) agreement in the Asia Pacific and the Transatlantic Trade and Investment Partnership (T-TIP) with the European Union. He also is leading the negotiation of agreements on services, information technology and trade facilitation at the World Trade Organization and monitoring and enforcing U.S. trade rights. Ambassador Froman also has been working with Congress to secure Trade Promotion Authority (TPA).
During his remarks, Ambassador Froman gave a status update on TPP and T-TIP, and took a number of calls on topics ranging from starting out as a new small exporter, to how to get Congress to move more quickly on TPA.
Please click here to download the podcast of the call.
Click here for more from the USTR on small business.
Click here for T-TIP Opportunities for small exporters.
Click here for details on expanding trade with the EU.
Click here to tell us more about your exporting story.