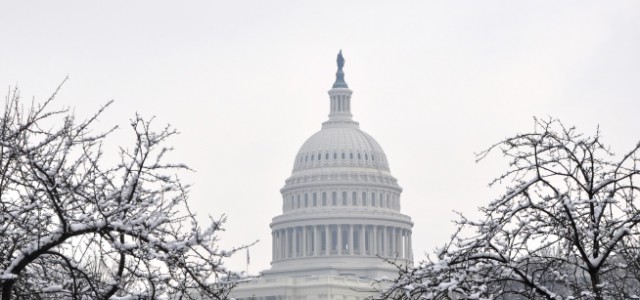 House passes Ex-Im Bank Reauthorization Bill
On Nov. 15, the House passed—along party lines—legislation to reauthorize and revamp the Export-Import Bank's (Ex-Im's) operations for ten years. The bill, H.R. 4863, the United States Export Finance Agency Act of 2019, passed by a vote of 235 to 184, with only 13 Republicans supporting the measure.
The bill now heads to the Republican-controlled Senate, where Senate Majority Leader Mitch McConnell (R-Ky.) has said he would not pass the House bill. Instead, Leader McConnell wants to use the stopgap government funding legislation as the vehicle to reauthorize Ex-Im Bank.
Congress now faces a Thursday—Nov. 21— deadline to stop the export finance agency's charter from expiring. An extension is expected to be included in stopgap government funding legislation due at the same time, but details have yet to emerge.
As the United States' official export credit agency, the Ex-Im Bank is a critical tool to support American jobs through exports. Ex-Im Bank helps support U.S. exports—including small businesses—through a range of programs, including guaranteeing loans to foreign buyers, credit insurance and some direct lending to foreign companies. NSBA believes Ex-Im puts U.S. firms—including small exporters—on a level playing field with other countries that similarly offer financing for their domestic manufacturers.
The White House budget office also expressed opposition to the House measure but said it supports the reauthorization of the Ex-Im Bank under other terms.
"The Administration is committed to the long-term reauthorization of the Export-Import Bank," the budget office said in a statement. "[The House bill], however, does not represent the type of bipartisan, bicameral approach needed to appropriately accomplish that goal."
Some conservatives have criticized the bank as a "corporate welfare agency" and oppose authorizing the agency to provide funding to firms associated with the Chinese government, saying it subsidizes Beijing. Supporters of the bank argue, however, that U.S. companies would suffer without it when they bid against foreign competitors for international purchases.
NSBA has been an outspoken supporter of Ex-Im Bank and endorses a long-term reauthorization. The prospect of getting financing as an average small business is very difficult and exponentially more so when dealing with foreign buyers as an exporter. Ex-Im Bank is a self-sustaining, independent federal agency that supports and maintains U.S. jobs by filling gaps in private export financing at no cost to American taxpayers. The Bank provides a variety of financing mechanisms, including working capital guarantees and export credit insurance, to promote the sale of U.S. goods and services abroad. Almost 90 percent of its transactions directly serve American small businesses. Since Ex-Im fully reopened with the confirmation of its board quorum on May 9, Ex-Im has authorized 1,000 small business transactions funding $1.1 billion and supporting 8,800 U.S. small business jobs.