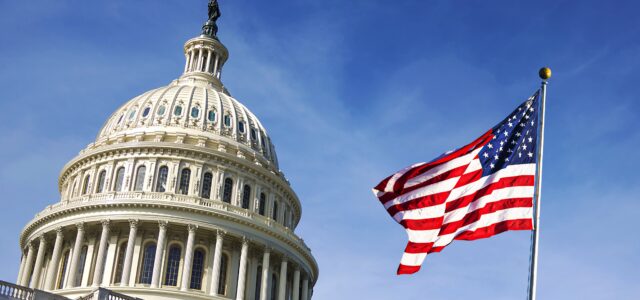 House Deal on Ex-Im Bank
On June 18, House Financial Services Committee Chairwoman Maxine Waters (D-Calif.) and Committee Ranking Member Patrick McHenry (R-N.C.) agreed to a long-term deal that would keep the U.S. Export-Import Bank (Ex-Im) operational for seven years and expand its capacity to offer loan guarantees to foreign buyers of U.S. exports.
Without action, Ex-Im's charter will expire at the end of September. Ex-Im Bank helps support U.S. exports—including small businesses—through a range of programs, including guaranteeing loans to foreign buyers, credit insurance and some direct lending to foreign companies. Supporters of Ex-Im say it puts U.S. firms on a level playing field with other countries that similarly offer financing for their domestic manufacturers.
Priorities for Chairwoman Waters reflected in the bill include the seven-year reauthorization and a gradual increase of the bank's $135 billion portfolio cap to $175 billion. The legislation also includes measures that would direct Ex-Im to expand its support for small businesses, renewable energy and minority- and women-owned businesses. It includes a section that would create a temporary board manned by top administration officials if senators once again decline to confirm a sufficient slate of leaders.
Further, Rep. Waters included a provision that would restrict an aircraft's ability to receive Ex-Im support if it had a poor safety record because of concerns that financing deadly products was a risk to the bank. The bill would prohibit transactions for planes that the federal government has grounded.
Among the restrictions sought by Ranking Member McHenry were the bill's limits on transactions involving China's state-owned enterprises — a must-have for his support. In addition, the bill would create another hurdle for large manufacturers by requiring the bank to report to Congress on their diversity and small-business outreach efforts.
Reps. Waters and McHenry are expected to advance the legislation as soon as this week through the Financial Services Committee. However, the agreement has rattled some centrist Democrats because of some of the limitations it will place on the bank including disclosure requirements for large manufacturers like Boeing that benefit the most from Ex-Im's financial guarantees, as well as restrictions on their deals in China. Thus, it remains uncertain how many Democrats on the committee will follow Chairwoman Waters' lead and agree on passage of her latest piece of legislation, as it is expected most Republican's will oppose the measure.
In May, the Senate moved to revive Ex-Im by confirming Kimberly Reed as its president as well as two other people to its board—handing the agency a board quorum necessary to approve transactions above $10 million for the first time in about four years.
Getting the Senate to support the so-called reauthorization of Ex-Im may prove challenging, because Republicans' views are split over the agency. Some Republicans think the bank's function amounts to "corporate welfare," saying it puts taxpayers at risk of losing money to finance sales that should be left to the private sector.
As a result, many believe that momentum and speed of advancement in the House are important because the bill will probably need to be attached to another legislative vehicle such as the National Defense Authorization Act (NDAA), which is currently being debated by lawmakers. The reason is, the Senate is unlikely to devote floor time to standalone Export-Import Bank legislation.
NSBA has been an outspoken supporter of Ex-Im Bank. The prospect of getting financing as an average small business is very difficult and exponentially more so when dealing with foreign buyers as an exporter. Ex-Im Bank is a self-sustaining, independent federal agency that supports and maintains U.S. jobs by filling gaps in private export financing at no cost to American taxpayers. The Bank provides a variety of financing mechanisms, including working capital guarantees and export credit insurance, to promote the sale of U.S. goods and services abroad. Almost 90 percent of its transactions directly serve American small businesses.