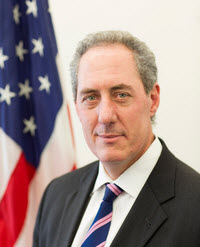 Exporting Call with USTR Michael Froman
SBEA and NSBA members are invited to participate in a teleconference with U.S. Trade Representative (USTR) Michael Froman on Tuesday, May 13 at 1:30 p.m. EDT. Ambassador Froman will provide an overview of the President's trade agenda and discuss the important benefits that small and medium sized businesses stand to gain from the trade agreements currently being negotiated, as well as engage in an interactive Q&A with participants.
Serving as President Barack Obama's principal advisor, negotiator and spokesperson on international trade and investment issues, Ambassador Froman has been spearheading negotiations on the Trans-Pacific Partnership (TPP) agreement in the Asia Pacific and the Transatlantic Trade and Investment Partnership (T-TIP) with the European Union. He also is leading the negotiation of agreements on services, information technology and trade facilitation at the World Trade Organization and monitoring and enforcing U.S. trade rights. This is in addition to working with Congress to secure Trade Promotion Authority (TPA).
The USTR recognizes that small and medium sized enterprises (SMEs) which export are more likely to grow faster, add jobs faster and pay higher wages than SMEs which serve purely domestic markets. As a result, central to any trade negotiation are measures aimed at lowering barriers to trade which disproportionately impact SMEs in order to enhance their ability to enter new markets and expand their customer base. NSBA and SBEA have urged that more must be done to emphasize the needs of small business within the scope of U.S. trade in order to enhance exporting opportunities for small U.S. companies.
This teleconference call with Ambassador Froman will allow you the opportunity to hear how USTR works to remove barriers SMEs face when they export, and to engage in an interactive Q&A with the Ambassador.
Please click here to register today!