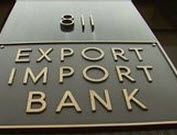 Ex-Im Returns $675 Million to Treasury
On Oct. 9, the Export-Import Bank of the U.S. (Ex-Im Bank) announced that it transferred $675 million in deficit-reducing receipts to the U.S. Treasury's General Fund for fiscal year (FY) 2014. As the official export credit agency (ECA) of the U.S., Ex-Im Bank is a self-sustaining federal agency that helps finance American exports of manufactured goods and services primarily in circumstances when alternative financing is not available.
Ex-Im Bank's main programs are direct loans, loan guarantees, working capital guarantees and export credit insurance. For its insurance, loan guarantee, and loan programs, Ex-Im Bank charges fees and interest, and the amount transferred to the Treasury represents what Ex-Im Bank earned in excess of its operating costs. In each of the last two years Ex-Im Bank sent nearly $1 billion to the U.S. Treasury, and over the last two decades, Ex-Im Bank has generated a surplus of more than $7 billion for U.S. taxpayers.
"The mission of the Export-Import Bank is to support job growth, strengthen communities, and empower U.S. businesses to sell more made-in-America products overseas," said Ex-Im Bank Chairman and President Fred P. Hochberg. "American businesses produce some of the highest quality, most innovative goods and services in the world—that we are able to support them while also helping to reduce the deficit is a bonus for taxpayers, and a testament to the hard work and risk management efforts of Ex-Im Bank's staff."
The Bank enables U.S. companies to turn export opportunities into real sales that help to maintain and create U.S. jobs and contribute to a stronger national economy. For FY2013, Ex-Im supported more than $27 billion in export sales and approximately 205,000 American jobs, at no cost to the taxpayers. In fact, this past year, the Bank set a new record in its support for small business, approving more than 3,400 small-business transactions and small business accounted for nearly 90 percent of the Bank's transactions.
Ex-Im operates under a renewable charter and the Bank's most recent reauthorization was granted by Congress in September. However, Congress only extended the Bank's authority through June 30, 2015, which means unless it is reauthorized again the Bank's charter will expire.
NSBA and the Small Business Exporters Association (SBEA)—the international trade arm of NSBA—are working to ensure that reauthorization of the Bank is done in a timely manner. SBEA's continued focus is on educating Congress about the Bank' critical role in supporting American small business exports and jobs in the face of competition with aggressive support from other ECAs as well as the need for a competitive Ex-Im Bank.