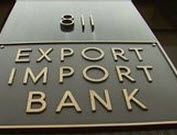 Ex-Im Reauthorization Remains in Jeopardy
With only 77 days left until the Export-Import Bank (Ex-Im Bank) of the U.S. expires, Congress continues to wrestle with what to do about its future. The Bank's current charter is set to expire on Sept. 30, and its reauthorization is subject to intense debate.
Ex-Im Bank, a self-sustaining federal agency, is the official export credit agency (ECA) of the U.S. It helps finance American exports of manufactured goods and services, with the objective of contributing to the employment of U.S. workforce, primarily in circumstances when alternative financing is not available.
In fiscal year 2013, Ex-Im enabled more than $37 billion in export sales from more than 3,800 U.S. companies, supporting approximately 205,000 American jobs, all at no cost to the taxpayers. Last year the Bank set a new record in its support for small business, approving more than 3,400 small-business transactions. In fact, small business accounted for nearly 90 percent of the Bank's transactions last year.
There is a deep political divide—with Democrats almost uniformly supporting the Bank, while Republicans, however, are split. Many conservatives, including House Financial Services Committee Chairman Jeb Hensarling (R-Texas) and House Budget Chairman Paul Ryan (R-Wis.), oppose the Bank arguing it is corporate welfare or the government's picking winners and losers in the marketplace. Further opposition from the newly appointed Majority Leader Kevin McCarthy (R-Calif.) may make it difficult for the Bank to get the votes necessary in the House to continue.
While House Republicans have not introduced a reauthorization bill yet, Senate Banking Subcommittee on National Security and International Trade and Finance Chairman Joe Manchin (D-W.Va.) and Ranking member Mark Kirk (R-Ill.) unveiled a bipartisan five-year reauthorization bill for Ex-Im, that would increase the Bank's credit exposure limit from the current $140 billion to $160 billion. The legislation also would require the Government Accountability Office (GAO) to study the Bank's medium-term financing programs.
The Senate Banking Committee will need to approve the bill before it heads to the floor. Sen. Charles Schumer (D-N.Y.) recently said Democrats want to pass Ex-Im reauthorization before the end of the month. Senate Majority Leader Harry Reid (D-Nev.) has indicated that he may attach a provision to temporarily extend Ex-Im to a continuing budget resolution (CR) that would keep the government operating beyond the end of this fiscal year.
Hensarling opposes this approach claiming the Bank is not part of the appropriations process and will continue to push leadership to refuse allowing a bill to come to the floor. There are some Republicans that support the extension of the Bank as long as some reforms are made, and highlighted this in a letter last month to House Speaker John Boehner (R-Ohio).
NSBA has been an outspoken proponent of reauthorizing the bank, as it is often the only financing resource available to many small exporting firms.
Please take a few moments TODAY to urge your lawmakers to support this critical small-business program.