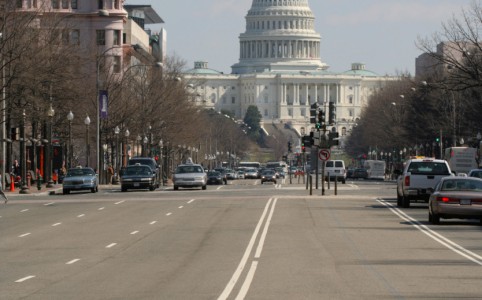 Ex-Im Bank Reauth Bill Introduced
On Oct. 25, a new bill was introduced to reauthorize the U.S. Export-Import Bank (Ex-Im) for 10 years. The legislation—H.R. 4863, the United States Export Finance Agency Act of 2019—was posted on the House Committee on Financial Services website ahead of a committee markup on Tuesday. The bank's charter was set to expire on Sept. 30, but it was reauthorized to continue operating through Nov. 21 as part of a short-term spending measure. Thus, without action by Nov. 21, Ex-Im's charter will expire.
As the United States' official export credit agency, the Ex-Im Bank is a critical tool to support American jobs through exports. Ex-Im Bank helps support U.S. exports—including small businesses—through a range of programs, including guaranteeing loans to foreign buyers, credit insurance and some direct lending to foreign companies. NSBA believes Ex-Im puts U.S. firms—including small exporters—on a level playing field with other countries that similarly offer financing for their domestic manufacturers.
The latest bill would rename the 85-year-old bank as the United States Export Finance Agency and renew it through Sept. 30, 2029. That is three years longer than the previous bill that Chairwoman Maxine Waters (D-Calif.) had drafted with the committee's ranking member, Rep. Patrick McHenry (R-N.C.). The new measure would also raise the bank's statutory lending authority from $135 billion to $175 billion over seven years.
An earlier effort to reauthorize Ex-Im failed after many lawmakers on the Financial Services Committee objected to provisions that would impose new disclosure requirements on major manufacturers and restrict the agency from providing financial support for deals with Chinese state-owned enterprises. The limits on sales to China were a must-have for Rep. McHenry, who argued that it was a way to curb what he saw as a subsidy for an economic competitor. The new bill's China restrictions are narrower in scope. It prohibits the U.S. credit agency from financing sales to the Chinese Army and Intelligence Services and "bad actors" that U.S. government has put on its export control lists. That would appear to include Chinese telecommunications company Huawei, which the Commerce Department has put on its "entity" list.
Further, the new legislation strengthen support for small businesses by requiring Ex-Im to submit a comprehensive outreach plan to Congress that would ensure small-business owners are aware of the financing options available to them through the bank, with specific emphasis on outreach to businesses owned by women, minorities, veterans, and persons with disabilities. The bill would raise the small business target threshold by the end of the 10-year authorization period from 25 percent to 30 percent of Ex-Im's total lending volume.
Another provision is intended to give Ex-Im more flexibility to respond to China's "predatory export financing practices." It would make it easier for Ex-Im to offer special terms when a U.S. exporter is confronted by a subsidized offer by China when bidding for a capital project. The bill also bars transactions with any person who has criminally violated the Foreign Corrupt Practices Act within the preceding three years, or who is listed in the Annual Intellectual Property Report to Congress.
Another section would create a special office for financing renewable energy, energy efficiency and energy storage exports and enhance the bank's environmental policy and procedures. Progressive committee members had earlier pushed to limit the agency's financing of fossil fuel power plants abroad.
Getting the Senate to support the so-called reauthorization of Ex-Im may prove challenging, because Republicans' views are split over the agency. Some Republicans think the bank's function amounts to "corporate welfare," saying it puts taxpayers at risk of losing money to finance sales that should be left to the private sector.
NSBA has been an outspoken supporter of Ex-Im Bank and endorses a long-term reauthorization. The prospect of getting financing as an average small business is very difficult and exponentially more so when dealing with foreign buyers as an exporter. Ex-Im Bank is a self-sustaining, independent federal agency that supports and maintains U.S. jobs by filling gaps in private export financing at no cost to American taxpayers. The Bank provides a variety of financing mechanisms, including working capital guarantees and export credit insurance, to promote the sale of U.S. goods and services abroad. Almost 90 percent of its transactions directly serve American small businesses.