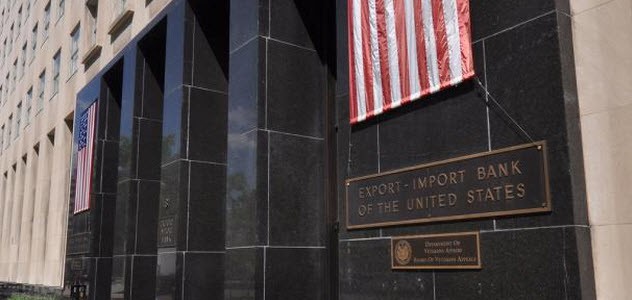 Ex-Im Bank Announces 2015 Advisory Committee
Recently, the Export-Import Bank of the U.S. (Ex-Im Bank) announced their new roster of Advisory Committee members for fiscal year (FY) 2015. Currently in its 32nd year, the Advisory Committee was congressionally-established to advise Ex-Im Bank on its policies and programs that provide competitive financing to support American jobs through exports. Its first official meeting of the new fiscal year is scheduled for Thursday, Jan. 15, 2014 at Ex-Im Bank headquarters in Washington, D.C.
Ex-Im Bank is an independent federal agency that supports and maintains U.S. jobs by filling gaps in private export financing at no cost to American taxpayers. The Bank provides a variety of financing mechanisms, including working capital guarantees and export credit insurance, to promote the sale of U.S. goods and services abroad.
In fiscal year 2014, Ex-Im Bank approved $20.5 billion in total authorizations. These authorizations supported an estimated $27.5 billion in U.S. export sales, as well as approximately 164,000 American jobs in communities across the country.
The Committee is comprised of 17 members, appointed by the Bank's Board of Directors after an open nomination process. The Advisory Committee represents an array of sectors and stakeholder groups, including small business, manufacturing, labor, textiles, international trade, services, environment, and banking.  This year's Committee has 11 new members and six returning members. Members of Ex-Im's FY 2015 Advisory Committee are as follows.
Chair:
Christine Gregoire, former Governor, Washington State, Representing: State/Local Government

Members:
Celeste Drake
Trade and Globalization Policy Specialist
AFL-CIO
Washington D.C.
Representing: Labor 
Jennifer Fulton
Co-founder
Miss Jenny's Pickles
Kernersville, N.C.
Representing: Small Business
Caroline Freund
Senior Fellow
Peterson Institute for International Economics
Washington, D.C.
Representing: Trade
Owen Herrnstadt
Chief of Staff
International Association of Machinists and Aerospace Workers
Upper Marlboro, Md.
Representing: Labor
Mary Howe
President and CEO
Howe Corporation
Chicago, Ill.
Representing: Small Business
Kusum Kavia
President
Combustion Associates Inc.
Corona, Calif.
Representing: Small Business
Tom Kiernan
CEO
American Wind Energy Association
Washington DC
Representing: Environment
Don Nelson
President
Ramsgate Engineering Inc., ProGuage Technologies Inc., Ramsgate Energy LLC USA, and Ramsgate Energy LLC Oman
Bakersfield, Calif.
Representing: Services
Gabriel Ojeda
President
Fritz-Pak Corporation
Dallas, Texas
Representing: Small Business
Bob Perciasepe
President
Center for Climate and Energy Solutions
Arlington, Va.
Representing: Environment
Gwynne Shotwell
President and Chief Operating Officer
SpaceX
Hawthorne, Calif.
Representing: Manufacturing
Matthew J. Slaughter
Associate Dean for Faculty, Signal Companies' Professor of Management and founding Faculty Director of the Center for Global Business and Government
Dartmouth College
Hanover, N.H.
Representing: Trade
Steve Stephens
CEO
Amegy Bank
Houston, Texas
Representing: Finance
Sydney Thwaites
President and CEO
Lubricating Specialties Company
Pico Rivera, Calif.
Representing: Commerce
Luis Ubiñas
Former President
Ford Foundation
New York, N.Y.
Representing: Services
John Morrison White, Jr.
President
Morrison Textile Machinery Company
Fort Lawn, S.C.
Representing: Textiles