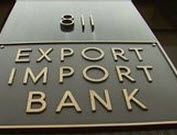 Ex-Im Amendment Fails in House Committee
On Feb. 13, during the House Financial Services Committee's markup of the president's Fiscal Year (FY) 2016 budget request, the committee rejected an amendment that would have required the panel to consider reauthorization of the Export-Import Bank of the U.S. (Ex-Im Bank).
Three Democrats on the committee including Ranking Member Maxine Waters (D-Calif.) and Reps. Gwen Moore (D-Wis.) and Denny Heck (D-Wash.) offered the amendment which stated that the panel is aware of the president's call to reauthorize Ex-Im Bank and will work to consider reauthorization of the Bank through regular order that lets all sides be heard. While Democrats have been mostly in favor of the Bank's renewal, strong opposition remains among Republicans, especially by the committee Chairman Jeb Hensarling (R-Texas) who has long been vocal in his opposition to the Bank, and goal of ending its current charter. As expected, the amendment was defeated largely along party lines, by a 22-32 vote.
The Ex-Im Bank plays an integral role enabling U.S. companies—particularly small businesses—to export goods and services around the world thus creating and maintaining thousands of U.S. jobs. Ex-Im remains a catalyst for the expansion of small-business exports while continuing to support businesses confronting aggressive foreign competition. Over the past four years, Ex-Im has completed over 12,000 financing transactions for small firms—supporting nearly $50 billion in small business exports and well over 100,000 small business jobs.
Last September, the Bank's charter was in severe jeopardy, however, Congress granted a temporary reauthorization through June 2015. With less than four months left until the Bank's charter is set to expire, Congress continues to wrestle with what to do about its future. If Congress does not act by the June 30 deadline, the sole U.S. export credit agency will cease to exist.
Last month, Rep. Stephen Fincher (R-Tenn.) introduced the NSBA/SBEA-supported bill, Reform Exports and Expand the American Economy Act (H.R. 597) which would reauthorize Ex-Im for five years along with a number of reforms to strengthen the Bank's transparency and accountability while fostering job-growth. The bill has the support of 58 cosponsors.
NSBA and SBEA have been outspoken proponents of reauthorizing the Ex-Im Bank, and it was recently named one of our top ten priorities for the 114th Congress. As the debates heats-up, NSBA and SBEA encourage small-business owners to voice their support for Ex-Im to their members of Congress through letters.