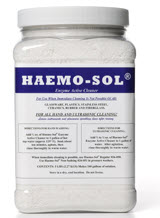 Haemo-Sol, LLC
Haemo-Sol International, LLC. manufactures and distributes specialty detergents and industrial cleaning agents worldwide. The company currently has dealers and subdealers located throughout the United States, Canada, Europe, and Asia. Haemo-Sol's products are used in a variety of industries including, but not limited to, cosmetics, biotechnology, food & beverage, hospitality, healthcare, electronics, photovoltaic, veterinary, tattoo, pharmaceutical, and medical device.
We have been using Ex-Im Bank for two years and one of the programs that we regularly use is Ex-Im Bank's Short-Term Small Business Multibuyer (ENB) insurance policy. The Ex-Im Bank ENB insurance policies are reasonably priced and relatively easy to apply for and manage once granted. In the past, we have asked customers to secure a letter of credit or make a large down payment before goods were shipped – both of which are costly and time consuming to initiate and secure. These policies help to increase exporting efficiencies and cut the costs of doing business for us and our customers, which in turn means more exporting.
To date, we have used Ex-Im Bank Credit Insurance to cover about 10 percent of our overseas receivables. I should note that not one of these covered customers has ever defaulted. More than 70 percent of our sales revenue comes from overseas. Without support from the Ex-Im Bank, Haemo-Sol would be in serious jeopardy of ceasing all operations. The programs that Ex-Im Bank provides help ensure that both current and new customers are credit worthy and financially stable enough to satisfy their fiduciary responsibilities.